Lifestyle
Groom surprises wife by gifting a life-size statue of father-in-law at their wedding event in Kolkata.
Amit De, a 29-year-old man in Kolkata caught everyone's sight by giving a very special, close-to-heart gift to his wife Sanjukta. His love for his wife made him think of a unique idea to surprise her on their wedding day. The initial idea of this surprise came with the thought of not giving any materialistic gift to his wife on their big day. Being in a relationship with her for 8 years, he thought that materialistic gifting like jewelry, phone, etc is very common and there's nothing special in it for their special occasion. So, he decided to gift her something that had an emotional touch, and hence Amit came up with a very heart-touching gift idea of surprising his wife with her late father's statue on their wedding day.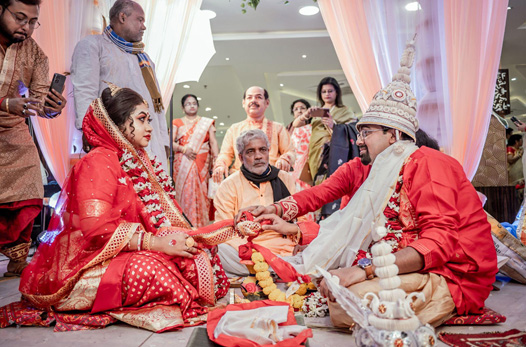 Amit's wife Sanjukta lost her father in an unexpected demise in September 2021. He had a wish of seeing his daughter get married over a grand ceremony that he wanted to organize. Now, to fulfill her's and her father's wish, Amit planned for this big surprise. Amit was initially afraid of presenting this gift since he was unsure of how near and dear ones would react to the situation when an artificial statue would be presented on the wedding day. At this point Amit seeked permission from his mother-in-law and dismissing any talks of an "attention-grabbing" exercise, Amit with the help of his mother-in-law got in the process of getting his wife the perfect statue of her father, and he just wanted to fulfill every minor detail of his father-in-law to make it come into a reality.
When Amit approached his mother-in-law with the idea of this surprise, she felt happy, appreciated his idea, and agreed to help him out. She used to assist him at the art site to provide the exact detail of her husband's physique, which includes even minor details like the shape of the nose, eye color, etc. which gave him more confidence to make this big surprise happen. When Amit shared his idea with a couple of friends, he was both encouraged and discouraged by them as it seemed unrealistic to many of them. His idea was not valued so much as a gift. Then, he began the search for an artist within and outside West Bengal.
After weeks of research, Amit met with a Sculptor artist named Samir Kumar Paul, who is from Kolkata. His previous work really inspired Amit to give him this sculpture project. Samir's father Santi Pada Paul was a traditional artist, from whom he learned the traditional art of making sculptures. Samir was also a student of the famous Sculptor Surajit Das, whom he assisted in making the pre-historic Dinosaur statue at the National Museum of Natural History, Delhi. He has also supplied the Durga Thakur's idol to West Germany and Canada in 1993.
During the course of the creation of the sculptor, Amit visited a couple of workshops by Mr. Paul, with his mother-in-law accompanying him. They executed this plan in a hidden format because it was a surprise for everyone else and his wife mainly. He ensured every single detail like the rings, neck chains, eyelids, etc. were exactly the same and resembled her father.
The statue was made out of Glass fiber Material, as it is very lightweight and movable. While a lot of artists had proposed a timeline of about 6-12 months, Mr. Paul with his dedicated efforts completed this project within 2 months' time. The statue was made so perfectly that after it was created, Amit handed over his late father-in-law's traditional clothing to Mr. Paul for a fit-out. To his amusement, it fit perfectly on the statue. "The 2D image to a 3D statue conversion at one go with the perfect outfit was amazing," says Amit.
Watch Video
He involved his brother-in-law along with the artist for the launch of this surprise at the venue, who gave a grand entry with the statue along with flashing lights and music. Sanjukta was stunned by the surprise and did not expect something like this as it was very special to her since she always wanted her father to be present on her wedding day. This made her feel very special.
Among all attendees at the ceremony close family members of Sanjukta's family were amused at the sight of Jayanta.
Amit expressed regret as he failed to add a voiceover of his father-in-law with the surprise during entry which he tried to execute but eventually failed due to lack of time and research.
Amit sole heartedly thanks the artist Mr. Samir Kumar Paul, who helped him accomplish this huge surprise in a very short span of time.